Hlavná strana
Fond na podporu umenia nenesie žiadnu zodpovednosť za úplnosť, správnosť a pravdivosť, ako ani za legalitu údajov uvedených v tejto časti webového portálu FPU. Všetky zverejnené informácie, v textovej, hypertextovej alebo obrazovej forme sú výlučnou zodpovednosťou prijímateľa finančných prostriedkov poskytnutých Fondom na podporu umenia, ktorý preberá zodpovednosť za zverejnené informácie súhlasom s podmienkami FPU a samotným zverejnením informácií na webovom portáli FPU.
V prípade zistenia, že boli prijímateľom finančnej podpory poskytnutej Fondom na podporu umenia zverejnené nevhodné alebo hanlivé informácie, ktoré sú v rozpore s pravidlami FPU, morálkou a etiketou, Fond na podporu umenia má právo takéto informácie okamžite odstrániť z tejto časti webového sídla. Nevhodný obsah zverejnených príspevkom môžete nahlásiť na e-mailovej adrese propagacia@fpu.sk.
Potulná galéria na Mediations Biennale v Polsku.
Krátky opis
Potulná galérie predstaví výstavu "Čo všetko by mohla byť pravda, ale nie je" a koncerty Mateja Tále v Mosine a Wroclawi.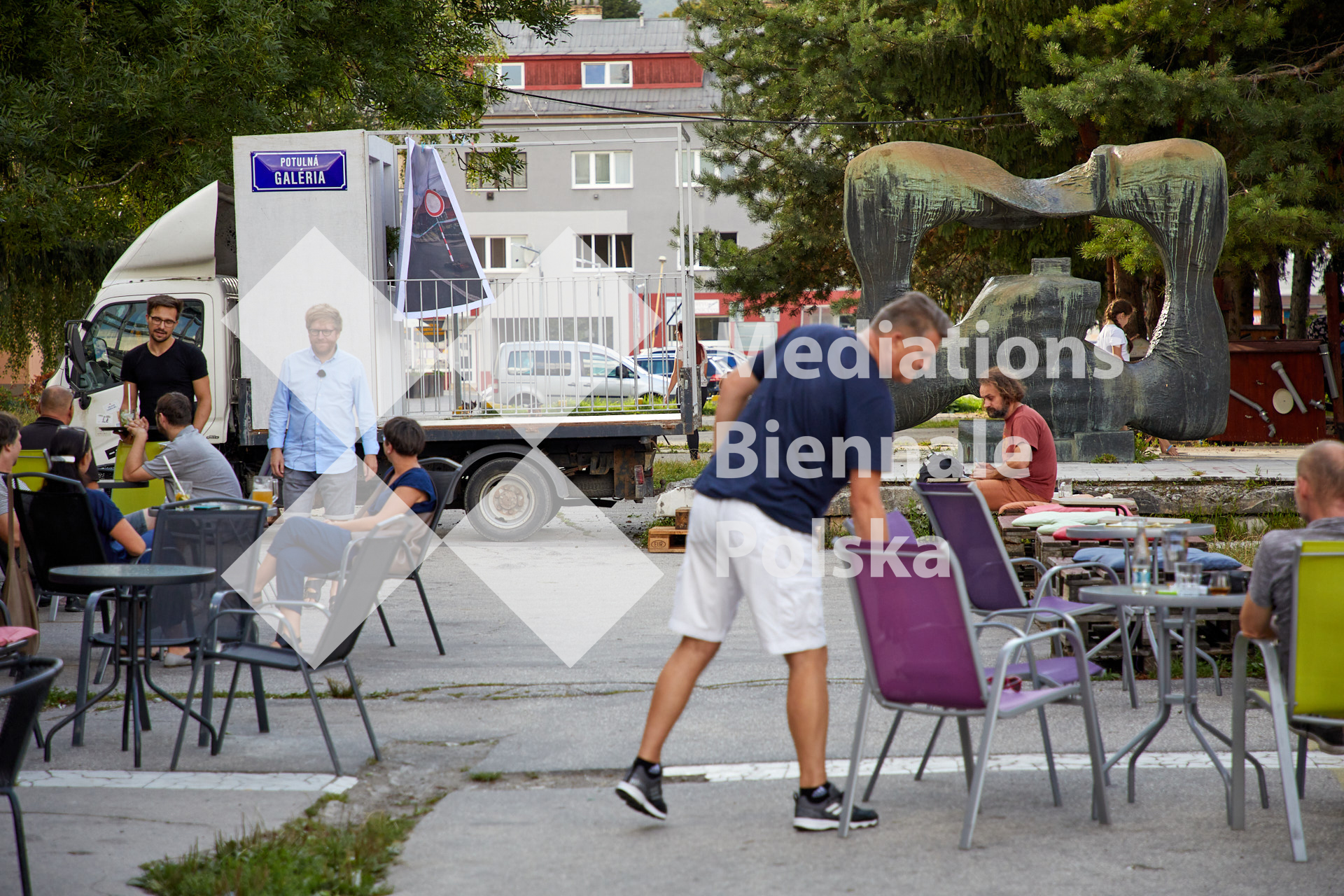 Fotogaléria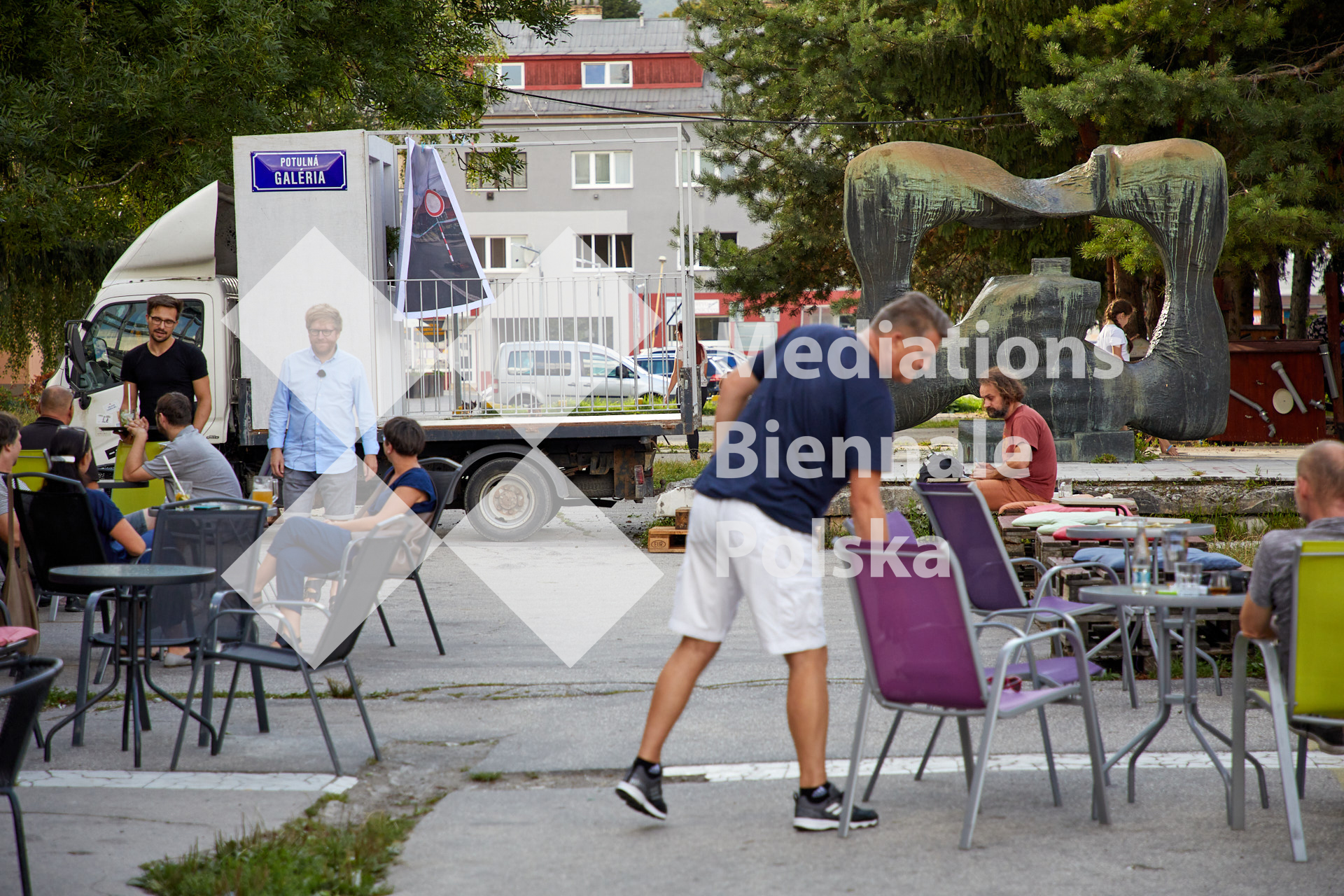 Názov podujatia
Čo všetko by mohla byť pravda, ale nie je.
---
---
Termín konania
15.10.2022 - 19.10.2022
---
Popis projektu
We are proud to announce collaboration of Wandering Gallery with 8 Mediations Biennale Polska 2022, Mosina Cultural Center and
 Galeria Grafiki Uniwersytetu SWPS in Wroclaw.
"We have created a system that prefer false information not because we want it, but false information makes companies more money than true. The truth is boring."
Sandy Parakilas, former operations manager Facebook
In 2021, we met for the first time on a mass scale with hoaxes that not only endangered human lives, but also directly killed. The irresponsible behaviour of people spreading misinformation questioning the safe principles (social distancing, wearing robes, but also the existence of the virus) has been exacerbated by algorithms that determine the priority distribution of fake news. And we had no idea that in 2022 the war would begin in Ukraine and about 30% of the population in Slovakia would be on the side of the aggressor. The disinformation scene disseminating unsubstantiated and misleading information is not adequately counterbalanced by institutions that disseminate facts on social networks with comparable force. Being a victim of a disinformation war is relatively easy, especially when unprepared and uneducated people stand against troll farms and sophisticated social networking algorithms.
The Wandering Gallery is a nomadic public art platform (balcony built on a small truck) presenting contemporary art, music and workshops in regions (summer festivals, squares, housing estates, schools and). We focus on places where extremism grows uncontrollably, we talk to people for whom attending a cultural event or cultural institution is an unimaginable or unattainable luxury. In collaboration with international artists and through the metaphoric language of art we draw people's attention playfully to the risks of extremism, racism, xenophobia and disinformation. The vision is to help people learn to think critically. 
In Wroclaw we will present concert and exhibition on a topic 
ALL THAT COULD BE TRUE, BUT ISN'T.
Exhibiting artists: 
Luchezar Boyadjiev /BG/, Ladislav Čarný, Džumelec (Erik Sikora), Aldo Giannotti /A-I/, Daniela Krajčová, Kundy Crew, Stano Masár, Jarmila Mitríková / Dávid Demjanovič, Dan Perjovschi /RO/, Ivana Šáteková, Shooty, Dušan Zahoranský
Supported using public funding by Slovak Arts Council. 
____________
One day a kind of angry person came to Socrates: "Have you heard, Socrates, what your friend has done? I must tell you at once."
"Wait," the sage interrupted. 
"Have you sifted what you want to tell me through three sieves?"
"Through three sieves?" the man asked in surprise.
"Yes, yes, through three sieves. The first sieve is the truth. Have you examined whether everything you want to tell me is really true?"
"No, I just heard it and . . ."
"Then you must have sifted it through the second sieve, which is good. Is what you want to tell me, when you can no longer prove it to be true, at least good?"
The other answered hesitantly: "Not at all, on the contrary..."
"Ah!" interrupted Socrates. "Then let's use the third sieve and see if what you want to tell me and what upset you so much is necessary!"
"It really isn't necessary..."
"Well," smiled the wise man, "if it is neither true, nor good, nor necessary, you had better forget it and do not burden yourself or me with it!"
The Wandering Gallery visited Budapest, Warsaw, Prague, Graz, Maribor, Koper, Celje, Zürich, Roma, Torino and other cities between 2007-2010. We covered 18 566 km in Slovakia, 75 878 spectators attended our performances between 2017-21. 
Názov prímateľa
Curatorial Studies Institute

Celkový rozpočet:
5 800,00 €

Výška podpory:
5 000,00 €